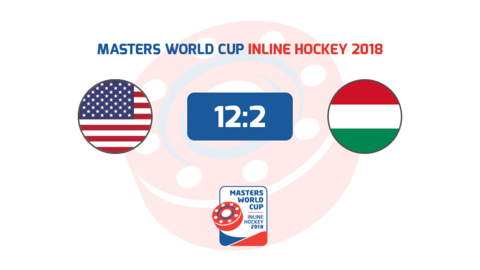 US dominates Hungary with 9 goals in first half
Přerov – No other game at the Masters tournament has offered more goals than this one so far. The Americans took charge early and defeated the Hungarians by quite a large margin. They scored 9 goals in first half and won 12-2 in the end.
The great start by team USA was demonstrated by the first goal just 25 seconds into the game by Michael Francis. Three minutes later, Francis scored again from the slot with a feed from Kern.
It was Derek Kern who scored next in the 8th minute with a low-profile shot from the top of the circle. This was quickly followed by two more tallies. Brin Morris scored himself before assisting with another one for Glenn Evans. Another goal was scored by Kern in the 14th minute with a quick response and the first goal of the game by Hungary – namely Tamas Lencses, whose shot went beyond Penneoke's reach.
Rich Garvey answered on the American side immediately followed by Francis, who completed his hat-trick. Szabolcs Sandor managed to pull one down with his shot, but Evans made it 9-2 just before the horn.
Garvey added to the score six minutes into the second half, then Michael Francis added his fourth goal and Glen Mears set the final result just three seconds before the end.
USA–Hungary 12:2 (9:2, 3:0)
Goals and assists: 1. Francis (McGrath), 4. Francis (Kern), 8. Kern, 9. Morris, 10. Evans (Morris), 14. Kern (Francis), 18. Garvey (Hawkins), 18. Francis (Chorndmud), 20. Evans (Watanabe), 26. Garvey, 34. Francis (Morris), 40. Mears (Evans) – 15. Lencses (Kovacs), 19. Sandor. Referees: Lattemann (GER), Jílek (CZE). Penalties: 0:0. PPG: 0:0. SHG: 0:0. Halftime: 9:2.