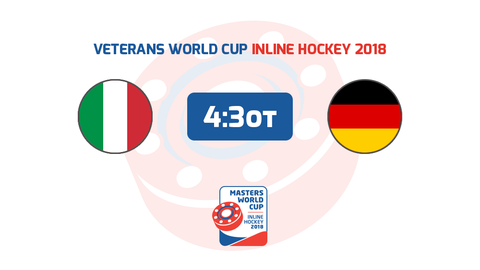 Banvegnu's OT winner helps Italy to reach 5th place
Nový Jičín – The game between Germany and Italy was a tough battle for fifth place. Italy blew a two-goal lead and trailed 3-2, but still found a way back and won in overtime thanks to a goal by Andrea Banvegnu.
Italy started strong and Francesco Ponterosso broke the scoreless tie on a quick set-up by Zolovkins. Nine minutes later, the Italians doubled their lead with a goal by Renato Vaccarino to make it 2-0. Soon, Germany came back with a quick answer when Andre Hartjes scored from the right side of the rink to make it 2-1.
The Germans continued to press at the beginning of the second half and in the 26th minute, Stephan Weber tied the game at 2 thanks to a feed from Sofiano. Back on their heels, the Italians then gave up a third goal in a row as Thorsten Hofmann scored a goal for Germany to give his team its first lead of the game. With six minutes left in the second half, the Italians were able to tie the game when Tiziano Santoni used an odd-man rush and scored to make it 3-3.
This tough game went to overtime and both teams had a lot of chances. In the 47th minute, Andrea Banvegnu became Italy's hero when his quick shot found the net for the game-winning goal.
Italy - Germany 4:3 ot