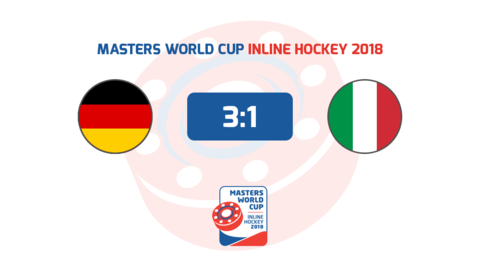 More dramatic, but still win. Germans win over Italy in Přerov for second time
Přerov – For the second time, these two teams met at the inline hockey World Championship in Přerov with the Germans being the winners again. It was a narrower win this time as team Germany won the game 3-1.
The Germans scored two quick goals within one minute – the 13th minute of the first half. At first, a scramble in front of the net led to Marco Albrecht firing a shot which went past Guichardaz. The helpless goalie did not have any chance to save the goal.
Half a minute after Albrecht's goal, Thorsten Sendt got a drop pass from Mader and secured a 2-goal lead for his team. Germany was leading the game against Italy 2-0 after the first half of the game.
The Italians scored a goal soon after the end of their power play as Schmitz, Germany's captain, had been called for a penalty. Fabio Berto fired a shot which hit the post and then went past the German goaltender. Italy pulled the goalie at the end of the game but failed at the attempts at tying it. The Germans earned a 3-1 win as Markus Köppl scored an empty-net goal.
Germany – Italy 3-1 (2-0, 1-1)
Goals and assists: 13. Albrecht (Mehner), 13. Sendt (Mader), 40. Köppl – 31. Berto (Sagui). Referees: Coutant (FRA), Výborný (CZE). Penalties: 2:1. PPG: 0:0. SHG: 0:0.