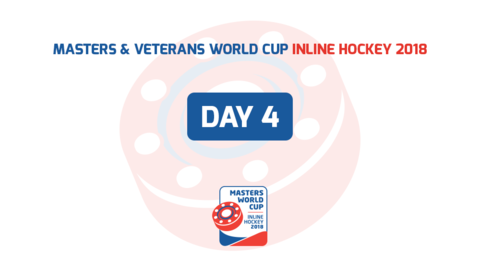 Masters and Veterans World Championship – Day 4
Přerov, Nový Jičín – In Přerov and in Nový Jičín, the tournament has already reached the quarter-finals, with only four of the best teams in the Masters' category, and the remaining eight have handed it over to the Round of 16.
In the Masters' category, madness took place in the morning for the one who would fill the last four places in the quarter-finals. At 9:00 AM, the national teams of France and Australia faced off and the outcome wasn't in doubt from the beginning. For the second time, the French beat the Australians, this time 10-1. The game between Great Britain and Italy was much more balanced, and it was decided in a shootout. The Italians overcame a 2-0 halftime deficit and won 3-2.
In the Danube derby, the Slovaks surprisingly did not take the game, instead succumbing 4-3. The game was very dramatic and thrilling to the end, with Tamas Lencses scoring thrice, including the game-winner in the 35th minute. The last ticket to the quarter-finals was secured by the United States, who beat Slovenia 3-1 Slovenia with two goals in the last minute.
Then they came to Přerov for the quarter-finals. Germany and France were the first to compete against each other, and the French got their second win today and moved to the semi-finals. The French secured the win with five goals in the first half, ultimately winning 8-2. Then, in a clash between the two North American powers, the Canadians scored twice in the second half to beat the USA 2-0.
In the quarter-finals, the Hungarians failed to repeat their performance against the Slovaks and fell 6-2 to Switzerland. All the Swiss goals were scored by halftime. In the last game of the day in Přerov, the Czech Republic faced Italy, winning 7-2.
Only five games took place in Nový Jičín. The first was between Australia and New Zealand. New Zealand took the early lead, but eventually lost 10-4. In the ninth-place series, which takes place over two games, Australia leads 1-0.
Then came the quarter-finals in the Veterans' category, with the first being Slovakia and the United Kingdom. The Slovaks were clear favourites as winners of Group A winner and left no doubt with a 12-0 win, sending the British for placement between fifth to eighth place. The game between Canada and Italy was somewhat more balanced, but in the end, the Canadians were patient and beat the feisty Italians 4-0.
The Americans also managed to win their quarter-final over France by a 6-1 score. it was the French who scored first, but then the Americans stormed back to take control. Finally, the Czechs faced Germany, and although Germany provided early problems for their eastern rivals, they eventually succumbed 5-1.