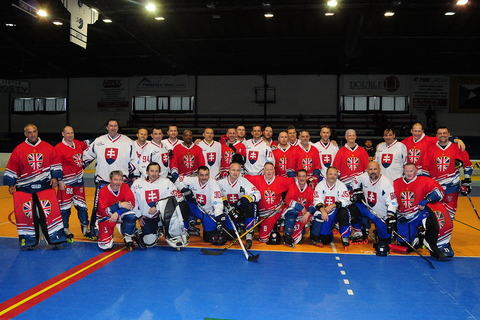 It's a bit weird to play here, says GB's Marcel Malý
He speaks Czech really well, but you won't see him in a Czech jersey. Marcel Malý, born and raised in Přerov, plays currently for Team Great Britain. Back in his ice hockey years, he used to play for Přerov and was coached by Miloš Říha. "It's my home, it's a bit strange to play here," he said about competing at the tournament in Přerov.
How do you enjoy playing here in your hometown?
It's a bit weird, for sure. I'm playing at home for Team GB. We didn't play against the Czechs this year, but we did last year in Bolzano. It's a strange feeling, but it's good to be home after so many years. I used to play ice hockey here, I've met with lots of guys from here and they recognize me. That's good because that means I haven't grown too old. It's nice to play here where I have my family. It's nice.
So you don't visit Přerov regularly otherwise?
Not much. Usually we stop by once or twice per year. Although it's true we've been here more often recently. I've been in England for 14 years now. That's a long time, but home is home.
Why did you move to Great Britain?
I've left when I was 19 or 20 years old, I don't remember exactly. I played here in Přerov when Mr. Říha coached the team. Then I came back approximately five years later. I struggled the first season as I didn't play before for some time, but the next one was good. I felt great and I wanted to leave again, but some people were against it. I had some offers to go play in higher leagues than here in Přerov, but I wasn't allowed to leave so I called it a career.
You said you've played here under Miloš Říha. He's currently one of the coaches in negotiations with Czech national ice hockey team, so what are your memories of him?
Quite good. He was a bit younger back then. He made a decent career in Pardubice and in the KHL. I was a new guy in the team back then, but I have only good memories of him.