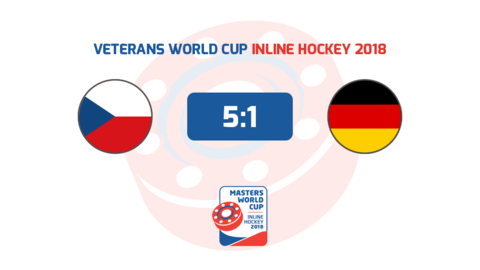 Hosts remain unbeated, beat Germany in quarterfinals
German veterans stepped up their game in the quarterfinals against the mighty Czechs, but it just was not enough to succeed. Czech Republic won 5-1 and is headed to the medals round.
The first half was far from perfect for the Czech team, as the hosts could not convert several chances and were penalised a couple of times. However, the hosts managed to create a 2-0 lead, nonetheless, thanks to Jiří Suhrada and Tomáš Kazlepka.
The two-goal cushion only stayed intact for a minute. Germany had a two-man advantage which was not successful, but a few seconds later, Sofian Udo put the German veterans on the board.
After the break, the Czechs started skating more in an attempt to bury all German hopes whatsoever. Dušan Vápeník, Roman Kala and Ivo Jindrák eventually scored, extending the Czech lead to 5-1. Team Germany did not have enough energy to dramatize the game, and the 5-1 score remained till the final buzzer. Czech Republic is headed to the semifinals, in which it will battle against Canada.
Czech Republic – Germany 5:1
Goals and assists: 13. Suhrada, 16. Kazlepka, 24. Vápeník (Heš), 25. Kala (Polívka), 29. Jindrák (Kala) – 17. Udo. Referees: Riolo, Favero. Penalties: 4:1. PPG: 0:0. SHG: 1:0. Halftime: 2:1.