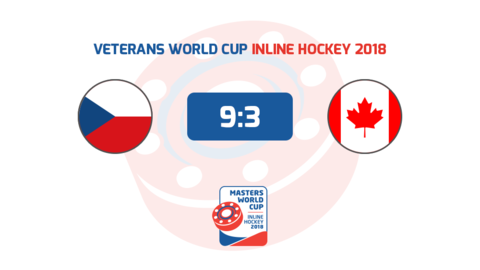 Czechs storm into final after win over Canada!
Nový Jičín – The home team outclassed a harmless opponent which gives them the opportunity to play in tomorrow's final vs Slovakia, who has advanced into the gold medal match after a quality performance over Team USA as well.
The first half was dominated by the home team. The opener was scored by Jiří Heš only 26 seconds into the game and then he added one more five minutes later. However, the scoring tear was not over for the Czechs. Until the intermission, Dušan Vápeník, Martin Duchek and Roman Kala extended the lead. This was enough for the Canadian goalie and a back-up was called into duty to relieve him. However, two goals had been scored on a breakaway and many similar situations followed.
The second half was rather tight. First, Roman Kala scored, but, immediately afterwards, Team Canada made their breakthrough as Michael Smith put the puck right into the net followed by Bill Adams and David Peacock.
Canadians put their efforts into getting back to the game but Tomáš Kazlepka scored an empty net goal. Afterwards, Martin Duchek made the final score 9-3 only twenty five seconds later.
Czech Republic - Canada 9-3 (5-0, 4-3)
Goals and assists: 1. Heš (Polívka), 6. Heš 8. Vápeník (Kazlepka) 13. Duchek (Polívka) 15. Kala (Vacek) 23. Heš (Polívka), 30. Langr, 39. Kazlepka, 39. Duchek (Ulrich) - 23. Smith (Bryan), 28. Adams, 34. Peacock (Vilio). Referees: Favero, Riolo. Penalties: 4:4. PPG: 1:1. SHG: 1:0.