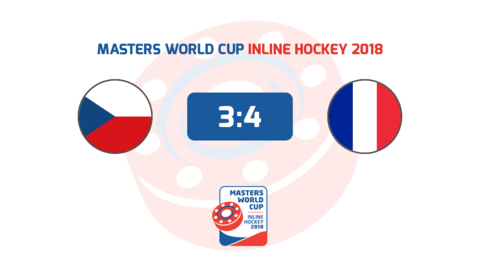 Czech team ends at the Masters in the semi-finals, France continues
Přerov – Czech will not win the title at the Masters category in the inline hockey world championship. Czech team faced to a well-organized and disciplined France. It´s players won 4: 3 and in the final will face to Switzerland.
The French have opened the score seven seconds before the end of the third minute. Dylan Mounier went with a teammate on a single Czech and took the responsibility on himself. Pavlíček was not able to stop his shot and Czech team needed to catch up the first goal, but soon their turned the score. In the 6th minute, Martin Vozdecký tied the score after he left the French defense behind him and beat Martin between his legs.
Two minutes later, Pavel Hanák's great moment came. The Czech forward made his space on the left wing, went to the space near to the left pole, from where he saw a millimeter gap between the French goalkeeper's pads and the mask. However, the French were able to tie the score in the first half. The Czech mistake was punished from the opponent´s action in which just one defensemen needed to look after two opponents. Julien Clisson stayed focus and was able to beat the Czech's goalkeeper.
The same player reversed the score on the French side after a pass from his brother. In the power struggle Pavlík was lying on the ground and Clisson send the ball under his body. The Czechs tied the score after the random situation. Martin Vozdecký's attempt bounced after disoriented Martin after it hit the opponent´s legs. The match was slowly going into extra time. In 39th minute Guillaume Blanc get the ball behind Pavlíček´s beck and thanks to his late-shot France will meet with Switzerland. Czechs will be waiting for a bronze fight with Canada.
<br><h3>Czech - France 3:4 (2:2, 1:2)</h3>
Goals and assistance: 6. Vozdecký, 8. Hanák, 34. Vozdecký – 3. Mounier, 16. J. Clisson (E. Clisson), 33. J. Clisson (E. Clisson), 39. Blanc (Aimonetto). Referees: Lattemann, Scheibner (oba GER). Penalties: 4:6. Power-play goals: 1:1. Short-handed: 0:0.