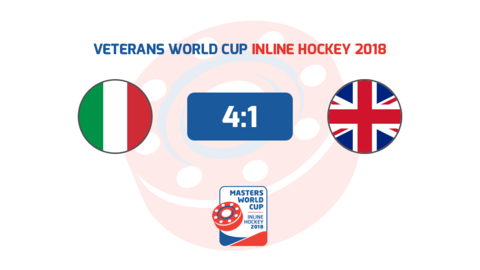 Big first half paces Italian Veterans over GB
Nový Jičín - A big first half was all Italy needed to secure the three-goal lead which they would win by. From their, they cruised to a 4-1 win in a placement game against Great Britain.
For most of the first half, it was the Italians who indicated the pace of the game. They finally scored in the 9th minute, courtesy of Francesco Ponterosso. As the minutes passed they couldn't get another and it seemed that the teams might go into the break with the score still 1-0, which would have been quite favourable for the British. However, but Ivan Endrizzi fired a shot home in the 19th minute from the left circle and Ponterosso added his second of the game just a few seconds before the halftime horn, giving his team a commanding 3-0 advantage.
In the second half, the British managed to step up their game dramatically, and they gave the Italians quite a good battle the rest of the way. They cut the deficit to two on a goal by Jason Coles in the 35th minute.
But that's as close as GB would come. In the dying minutes they had to compromise some defence in an attempt to score, which was created some chances for Italy and Andrea Benvegnu put the game away. Italy will now face Germany for fifth place with Germany, while the Brits will face France for seventh.
Italy - Great Britain 4:1 (3:0, 1:1)
Goals and assists: 9. Ponterosso (Zolovkins), 18. Endrizzi (Bramante), 20. Ponterosso (Dotto), 40. Benvegnu - 35. Coles (O'Connor). Referees: Shiška, Riolo. Penalties: 1:0. PPG: 0:0. SHG: 0:0. Halftime: 3:0.