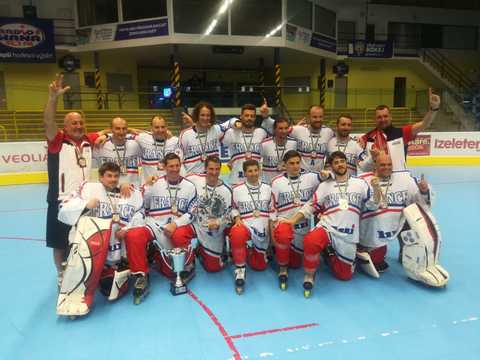 Dramatic battle in Masters final with happy ending for France
Přerov – The final match of the Masters' category in the World Championship in inline hockey had a very dramatic finish. France managed to take a two-goal lead in the second half of the game, but the Swiss reduced the difference to one goal. In the end, the French had to defend their lead and it was a difficult task. France was successful in this goal and thanks to that can celebrate the gold medal.
The score was opened in the 14th minute of the first half by Switzerland. At that moment, they were on the power play and the French penalty-killers literally held in front of the net defended by Martin. But as soon as Massimo Jamucsi got the pass between the circles and with thanks to his strong shot, Switzerland took the lead.
The score changed again in the 17th minute. This time it was at the other end of the rink and France managed to tie the score. Raby sent the pass to the Richard Aimonett, who was waiting near the right post. He had a big obstacle before him, the Swiss man with the mask. After a short effort, however, he could overcome him with a good rebound near the goalkeeper's pad. After the first half Switzerland and France were tied 1-1.
The country of the Gallic rooster took the lead in the 23rd minute. Cudicio found Richard Aimonett, who scored his second goal in the game with a shot that flew right below the bar. In the 30th minute, France increased its lead to two goals. In front of the goal was Edouard Clisson and, thanks to good orientation, he managed to score. In the 37th minute, the Swiss dramatized the game as Schuster's shot flew into the fire in front of the net and Marcel Kündig's rebound went into the net. In the end, the Swiss had put all their forces into the attack, but it was not enough. The gold medals from the Masters World Championship were taken by France.
Switzerland - France 2:3 (1:1, 1:2)
Goals and assists: 14. Jamucsi (Diener), 37. Kündig (Schuster) – 17. Aimonetto (Raby), 23. Aimonneto (Cudicio), 30. E. Clisson. Referees: Jílek (CZE), Lattemann (GER). Penalties: 3:2. Power-play goals: 1:0. Shorthanded: 0:0.