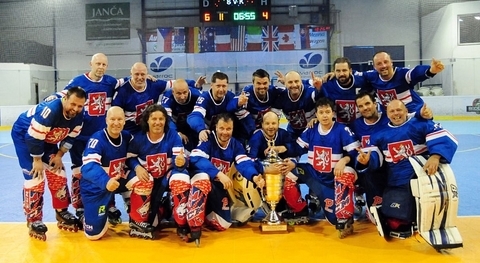 Czechs clinch gold in final thriller win over Slovakia!
Nový Jičín – The Czechs can celebrate winning gold medals in the veterans' category! In the final match, the Czech inline hockey team topped Slovakia, who were eager to take the gold as well, 6-4. It was a thrilling match until the final buzzer as the Czechs lost their lead twice during the game to reach the gold medal in the tournament after all.
The Czech team entered the game raring to win and was able to score a quick opener of the game just like in the semis. Not only did they score once, but they also added one more soon after! Jiří Heš made the fans in Nový Jičín happy with his goal just 20 seconds into the game. The celebrations went on as Tomáš Langr's shot hit the post first and then headed right into the net 49 second later – 2-0.
However, the Czechs eased off their pace and the Slovaks were able to capitalize on it and tie the game as they scored twice within one minute, too. First, Stanislav Jelínek sniped from the left face-off circle. Then, Anton Lezo scored a rebound goal after lobbing Hrachovina, a Czech goalie, in the 6th minute. Four more goals were scored until intermission and the game followed the previous scenario.
The Czechs were able to get their 2-goal lead back as Tomáš Langr fired a shot that went past the post into the net guarded by Kohút, Slovakia's goaltender. One minute later, Martin Duchek extended the lead off Kazlepka's pass making it 4-2. The Czech team did not learn their lesson and the Slovaks tied the game again as Roman Chatrnúch and Peter Jurenka made their shots go past Hrachovina.
Only two more goals were scored in the second half; both of them by Czech players which made the fans happy again. Petr Polívka took the puck in front of the net and pushed it in with ten minutes of the game left. That was the game winner for the Czechs! The Slovaks tried their best at the end of the game and pulled the goalie. They failed to score the goal but conceded an empty net goal by Roman Kala.
The Czech Republic veterans' inline hockey team wins the gold medal!
Czech Republic – Slovakia 6-4
Goals and assists: 1. Heš (Kala), 2. Langr, 10. Langr (Würtherle), 11. Duchek (Kazlepka), 30. Polívka (Heš), 40. Kala – 5. Jelínek, 6. Lezo (Horváth), 13. Chatrnúch (Kotlárik), 15. Jurenka (Foltýn). Referees: Favero, Riolo. Penalties: 1:3. PPG: 1:1. SHG: 0:0. Half-time: 4-4.