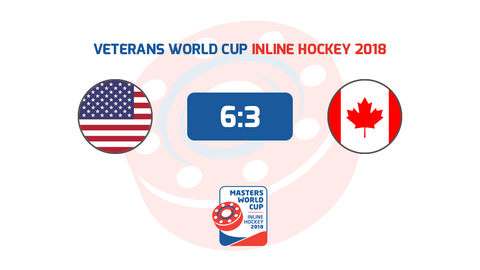 Team USA prevails in derby match over Canada to grab bronze medals
Nový Jičín – Team USA and Team Canada played against each other in a battle for bronze at the veterans' World Cup in Nový Jičín. As both teams had come off semi-final losses, Team USA set aside their disappointment and reached third place in the tournament with a 6-3 win. The Americans started off on the right foot, took a 2-goal lead and were able to defend it until the final buzzer.
The Americans had been considered slight favourites before the match started and were able to prove it. From the beginning, they topped Canadians as the two opening goals of the game were scored into Canucks' net. First, Michael Vicklerman fired a glove side snipe on a breakaway and Matthew Koleski then extended the lead in the 15th minute on power-play.
Canada refused to give up and scored their first goal as Mark Wandler fired a shot which went past Larry Botsford, the U.S. goalie, right into his net. The Americans, however, took the 2-goal lead back after Michael Vicklerman's goal before intermission.
It was a lucky start of the second half for Team Canada as Del Leibel's quick attack resulted in a goal – 2-3. Yet, in the following minutes, the Americans were able to make the game safe as Matthew Koleski and Michael Lalonde each scored two more goals within one minute making it 5-2. David Peacock then scored for the Canucks to bring the score to 5-3, but Douglas Fetz rounded the game off with an empty net goal.
USA – Canada 6-3 (3-1, 2-2)
Goals and assists: 11. Vicklerman, 15. Koleski (Fetz), 19. Vicklerman (Wiljanen), 24. Koleski (Thede), 25. Laonde (Clouston), 40. Fetz – 16. Wandler (Leibel), 21. Liebel, 38. Peacock. Referees: Veselý, Ptáček. Penalties: 5:5. PPG: 1:0. SHG: 0:0. Half-time: 3-1.