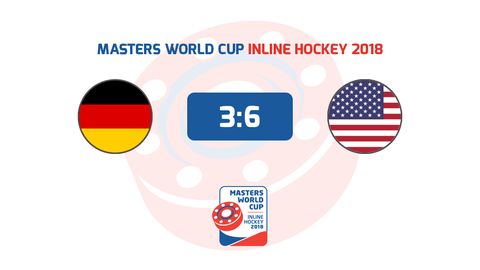 United States show strong first half vs Germany, clinch fifth place
Přerov – The United States Masters secured fifth place at the World Championship, beating Germany in the decisive match 6-3. The Americans came up with a strong first period, scoring five goals.
In the 4th minute, the US opened the scoring as Rich Garvey broke the tie with his quick slap shot. Eight minutes later, they doubled their lead when Shawn McGrath capitalized on a rebound after Kern's shot. Germany found an answer soon after when Florian Nies scored from right in front of the net.
Nevertheless, the USA continued with a balanced performance and added three more goals before halftime. Derek Kern finished off a quick combination with his teammates with a shot to the open side of the net on the power play, followed by a goal from Brian Watanebe. Then, Michal Francis finished an odd-man rush with a beautiful wrist shot under the crossbar to make it 5-1.
Germany didn't want to give up and came out hard in the second half. Matthias Mehner and Marco Albrecht scored within five minutes to make it 5-3, but one minute before the end of the game, Robert Chornmud scored a goal on another odd-man rush to make the final score 6-3.
Germany – USA 3:6 (1:5, 2:1)
Goals and assists: 12. Nies (Köppl), 27. Mehner (Groß), 32. Albrecht (Groß) – 4. Garvey (Enright), 9. McGrath (Kern), 15. Kern (Hawkins), 16. Watanabe (Hawkins), 18. Francis (Kern), 39. Chorndmud (Garvey). Referees: Šiška (CZE), Moine (GER). Penalties: 3:2. PPG: 0:1. SHG: 0:0.