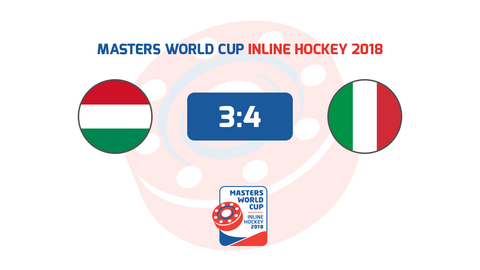 Italy narrowly beats Hungary to secure a seventh-place finish in Masters
Italian inline-hockey players scored three powerplay goals in a battle for the seventh place against Hungary and defeated their opponents 4:3.
Italy struck first less than four minutes into the game: David Stricker received a nice pass from Sagui and his mighty shot went just below the crossbar. About ten minutes later, Szabolcs Sandor shot from in between the circles and made it 1:1.
Two minutes before the end of the first half, Giancarlo Todesco beat Palla on the powerplay with a heavy shot from the left circle. However, the Hungarians managed to tie things up still in the first half, thanks to a goal by Zsolt Molnar.
Hungarian Masters paid a hefty price for not being able to stay out of the penalty box. Four minutes into the second half, David Stricker scored on the powerplay, and six minutes later, Giancarlo Todesco did the same to make it 4:2 for Team Italy. Szabolcs Sandor made things dramatic at the very end by cutting the Hungarian deficit to one goal, but Italy held on to their narrow lead.
Hungary - Italy 3:4 (2:2, 1:2)
Goals and assists: 4. Stricker (Sagui), 18. Todesco (Berto), 24. Stricker (Berto), 30. Todesco (Berto) - 15. Sandor (C. Lang), 20. Molnar (Sandor), 40. Sandor. Referees: Jílek, Lepich. Penalties: 5:2. PPG: 3:1. SHG: 0:0.