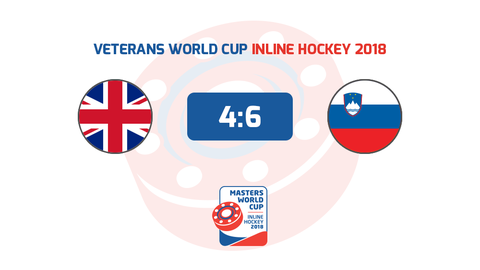 Fajdiga scores four goals, Slovenes edge Britain
In the battle for the 9th place in Veterans, Slovenia beat Great Britain 4:6. The Slovenes scored three shorthanded goals and were powered to the win by a four-goal performance from Aleš Fajdiga.
Early on in the game, Great Britain was on the powerplay, but conceded paradoxically. Igor Mubi got on a breakaway and beat Wood from the slot. Four minutes later, the game was tied again, thanks to a nice tip-in from Michael Newberry.
In the 12th minute, Wightman hit the post with his shot, and to make matters worse for Team GB, the Slovenes started scoring goals in a torrid pace. Aleš Fajdiga, Andrej Becl and Aleš Fajdiga again beat wood to make it 4:1 Slovenia. Late in the first half, Marcel Maly scored to create a glimmer of hope for Britain.
Eight minutes before the final buzzer, Aleš Fajdiga gave Slovenia back a three-goal lead after another shorthanded goal, with which he completed the hattrick. However, Marcel Maly kept Great Britain in the game - 5:3.
Maly had a golden opportunity to cut the deficit to one, but he did not convert on a penalty shot. Shortly after, Aleš Fajdiga scored yet again, and instead of 5:4, the score was 6:3. In the very last minute, Marcel Maly eventually did complete his hattrick, but that was when it had been already certain that Slovenia will secure the 7th spot.
Great Britain – Slovenia 4:6 (2:4, 2:2)
Goals and assists: 10. Newberry (Hehir), 18. Maly (Newberry), 39. Maly (Hehir), 40. Maly (Wightman) – 6. Mubi (G. Petronijevič), 13. Fajdiga (G. Petronijevič), 17. Becl (Mario), 18. Fajdiga, 32. Fajdiga (J. Breznik), 39. Fajdiga (G. Petronijevič). Referees: Šiška (CZE), Moine (FRA). Penalties: 2:5, Mubi (SLO) 10 min. disconduct. PPG: 1:0. SHG: 0:3.