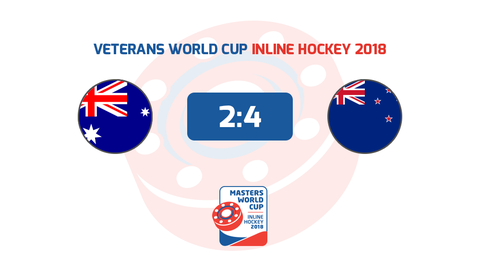 In Saturday's opener Kiwis beat Aussies, 4-2
Nový Jičín – The Veterans teams of New Zealand and Australia opened Saturday's schedule, although Australia had already clinched ninth place the day before. Both teams agreed to play an exhibition-style game, and New Zealand won 4-2.
Both teams faced each other for the third time in three days, with the Aussies winning both previous games to secure ninth place. The Aussies and Kiwis agreed on to play the third game just for fun in an exhibition style.
New Zealand secured its first win it this best-of-three series. Vincent Wichman and Leighton Duerre scored two decisive goals within 13 seconds. Australia tried to make a comeback, but the Kiwis were prepared and fought till the end to win 4-2.
Australia – New Zealand 2:4