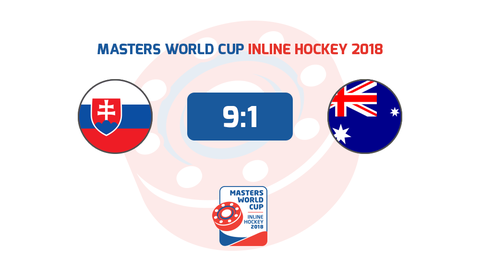 Slovaks crush Aussies to clinch 11th place
Přerov – The Slovak Masters ended the tournament with a win against Australia and finished in 11th place. They won the game easily 9-1.
The first half began with a lot of chances on both sides. First, Jeffrey Ells made some huge saves against Slovakia's forwards. Soon, Szoke got a quick set-up but Ells showed his quality to make another glove save.
In the 13th minute, Jaroslav broke the tie to make it 1-0 for the Slovaks. One minute later, Peter Udvardy got a breakaway and doubled Slovakia's lead with a shot under the crossbar. The Slovaks had found the confidence they needed and added another goal when Jozef Vrábel found space between the circles and scored with a quick shot just inside the far post.
Slovakia continued to dominate and Richard Vacek came up with his team's fourth goal, followed by goals from Pavol Šturc, Milan Novosedlík and Vrábel's goals to make it 7-0. Then Šturc found then net again with a shot. Australia scored its first and only goal when Steven Adams found the net from the right side but Slovakia struck last, as Novosedlík's second of the game made the final score 9-1.
Slovakia – Australia 9:1 (3:0, 6:1)
Goals and assists: 13. Škrovánek (Vacek), 14. Udvardy (Funta), 16. Vrábel (Novosedlík), 24. Vacek (Funta), 26. Šturc (Vacek), 27. Novosedlík, 28. Vrábel, 33. Šturc (Funta), 39. Novosedlík (Szoke) – 33. Adams (Baux). Referees: Lepich (GER), Coutant (FRA). Penalties: 0:1. PPG: 1:0. SHG: 0:0.