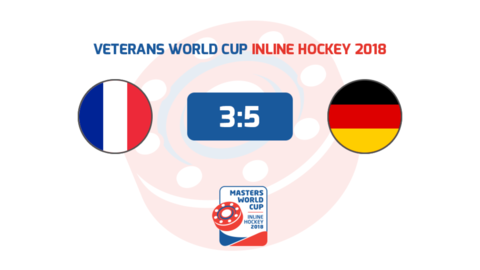 2nd half comeback gives Germans 5th place over France
Novy Jicin - Trailing 3-2 at halftime, the Germans scored three straight goals in the second half to defeat France 5-3 and claim fifth place in the Veterans' championsip.
In the first half it was France that held the edge in play, but it was the Germans who opened the scoring in the 7th minute. With his team shorthanded, Michael Hohenberg led a rush up the floor and scored against the flow of play. However, the French tied it on the same power play when Thibault Vincet took a pass The Germans regained the lead 10 minutes later courtesy Udo Sofian, but the French came on strong to finish the first half and scored twice more, first Franck Brocherie and then Lionel Reigner just a few seconds before the horn to take the lead into the break.
For most of the second half, the French played shorthanded, which gave the Germans an opportunity to come back. Oliver Krill notched the equalizer on an armour-piercing slapper, and then on another power play two minutes later, it was Thirsten Hofmann scoring the eventual game-winner.
There was still a lot of time left to equalize again but the French couldn't stay out of box, which hindered their efforts. Then in the dying minutes, Ricky Kalhfub gave the Germans an insurance marker with a great shot from the right side.
France - Germany 3:5 (3:2, 0:3)
Goals and assists: 8. Vincent (Legallic), 18. Brocherie, 20. Reigner - 7. Hohenberg (Hofmann), 10. Sofian (Krill), 26. Krill (Wilts), 28. Hofmann (Hohenberg) Kahlfub (Hofmann) Referees: Ptáček, Favero Penalties: 5: 4. PPG: 2: 3. SHG: 0:1. Halftime: 3:2.