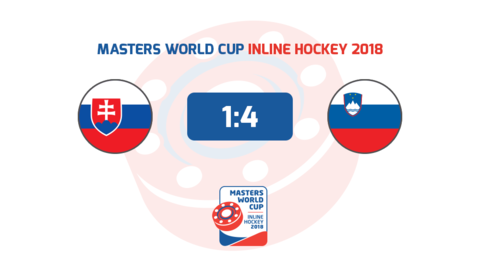 Slovenian Masters prevail vs Slovakia
Přerov – In Friday's first game of the day in the Masters' category, the teams from Slovakia and Slovenia faced off against each other to battle for placement. The teams traded goals in the first two minutes, but eventually the Slovenes pulled away and won 4-1.
The Slovenians opened the scoring after just 19 seconds of play, when Janez Breznik set up Aleš Fajdiga for a chance in front, and he beat Csanda from close range. But the Slovaks answered quickly when Peter Udvardy took a pass from Šturc and rippled the mesh behind goaltender Aleš Petronijevic in just the second minute of play.
Slovenia took the lead back in the 18th minute of the first half when Breznik got his second assist of the game. This time, he set up Goran Petroniyevich, who managed to beat Csanda.
In the second half, the Slovenes increased their lead to 3-1 in the 24th minute. On a delayed penalty, Petroniyevich fed a pass to Fajdiga, who sent a blast from the right side under the fallen goalie for his second goal of the game. Slovenia then cashed in on the power play in the 28th minute to put the game away. With Novosedlík in the penalty box, Csanda was burned by Janez Breznik, who had three points in the game.

Slovakia - Slovenia (1: 2, 0: 2)
Goals and assists: 2. Udvardy (Šturc) - 1. Fajdiga (J. Breznik), 18. G. Petronijevič (J. Breznik), 24. Fajdiga (G. Petronijevič), 28. J. Breznik (G. Petronijevič). Referees: Scheibner (GER), Jilek (CZE). Penalties: 1:2. PPG: 0:1. SHG: 0:0. Halftime: 1:2.