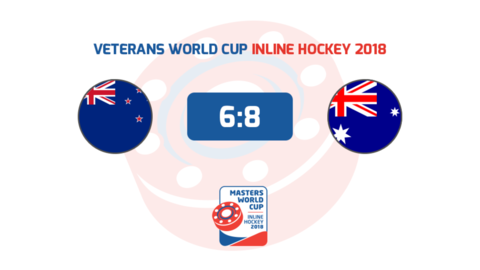 Australia beats New Zealand for second time to secure 9th place
Australia's national team has succeeded in battle of ninth place, beating Team New Zealand for the second time in two days. The Aussies won 8-6, while the Kiwis couldn't find a way back to tie the game.

Australia entered the game better with Mark Schvettpelz's strike, who scored in the first minute of the game. Four minutes, later the same player doubled Australia's lead. The Kiwis were able to tie the game at 2 before the end of the first half with goals by Clyde Jackson and Andy Green.

In the 17th minute, the Aussies took the lead back on Duane Voss's wrist shot, but New Zealand's Craig Flood tied the game at 3 with a quick shot from the slot in front of the net.

The second half began with a goal by Geoff Dawson but, just 10 seconds later, Todd Velvin tied the game again. In the 30th minute, New Zealand took lead, as Stanley Greene and Shawn Retter made it 6-4 for the Kiwis but the Aussies replied with four straight goals. Dwayne Perreira scored Australia's fifth goal and Anthony Santalucia then recorded a natural hat-trick to become the hero of the game and closed out the scoring to make it an 8-6 final.

New Zealand - Australia 6:8
Goals and assists: 1. Schvettpelze (Santalucia), 4. Schvettpelze (Santalucia), 17. Voss (Szuster), 28. Dawson (Santalucia), 31. Perreira, 32. Santalucia 38. Santalucia (Szuster), 40. Santalucia (Szuster) – 6. Jackson (Flood), 10. Greene (Velvin), 18. Flood (Jackson), 29. Velvin, 30. Jackson, 31. Retter (Duerre) Referees: Šiška, Moine. Penalties: 3:0. PPG: 0:1. SHG: 0:0. Halftime: 3:3.