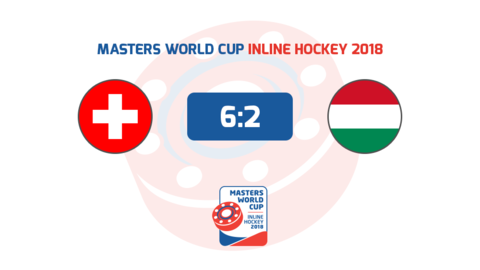 Swiss Masters make semifinals after dominant performance vs Hungary
Switzerland scored all six goals in the first half. After the break, the semifinalists slowed down a bit to save some energy for the upcoming games, but Hungary only managed to score twice.
The Swiss players only needed six minutes to score the opening goal, as Michel Ferrat beat Palla to make it 1-0. Only four minutes later, Rolf Schrepfer capitalized on a nice pass from Jamucsi and extended Switzerland's lead. Early in the second quarter of the game, Massimo Jamucsi added a goal to his assist and it was becoming evident that the Swiss Masters will make it to the medals round.
Hungarian hopes further deteriorated in the 15th minute when Matthias Goetschi scored twice in the same shift. And because Christian Schuster, also scored before the break, Switzerland was heading to the locker room with a 6-0 lead.
After the break, the Swiss did not play with such authority anymore, and the Hungarians took advantage - at least partially. Szabolcs Sandor scored the first Hungarian goal five minutes before the final buzzer, and in the very last minute, Sandor tallied one more goal.
Switzerland – Hungary 6:2 (6:0, 0:2)
Goals and assists: 6. Ferrat (Imhof), 10. Schrepfer (Jamucsi), 13. Jamucsi (Schuster), 15. Goetschi (Schrepfer), 15. Goetschi (Ferrat), 18. Schuster (Ferrat) – 35. Sandor, 40. Sandor (Wehli). Referees: Moine (FRA), Výborný (CZE). Penalties: 0:3. PPG: 1:0. SHG: 0:0.