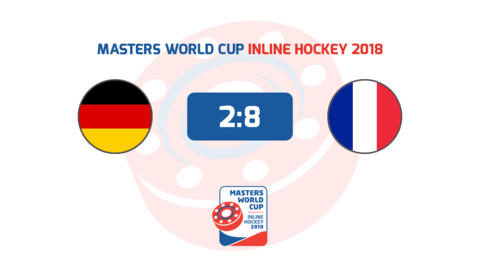 French masters win semi-final over Germany in Přerov
Přerov - France has advanced to the semi-finals of the Inline Hockey Masters World Championship after an 8-2 win over Germany in the quarters.
The French came out strong and built themselves a very comfortable lead during the first half. In the third minute, Dylan Mounier put a nice finishing touch on Edouard Clisson's pass. The second goal came seven minutes later when Xavier Raby appeared in front of the net after taking a pass from Frédéric Hostein.
In the 16th minute, the German goalie was under siege. He made a big save on an initial blast, but he was in no position to stop Julien Clisson on the rebound. Immediately after, Wiliam Richard's found the top corner with a blazing wrister and less than a minute later, the first half ended on a goal by Édouard Clisson.
The Germans managed to get one back in the 23rd minute when Markus Köppl found the net. Then a minute later, the same player found the German captain Patrick Schmitz, who quickly went upstairs with goalie Martin down. But the French wasted little time getting those two goals back. First, Guillaume Blanc scored, then a minute later he set up Clisson, who was open in front. A late goal by Raby made the final score 8-2.
Germany - France 2: 8 (0: 5, 2: 3)
Goals and assists: 23. Köppl (Nies), 24. Schmitz (Köppl) - 3. Mounier (E. Clisson), 10. Raby (Hostein), 16 J. Clisson (Mounier), 17 Richard (Hostein) 17. E. Clisson (Richard), 27. Blanc (Defrance), 28. E. Clisson (Blanc), 37. Raby (Thomas). Referees: Shiška, Výborný (both CZE). Penalties: 4:2. PPG: 0:1. SHG: 0:1. Halftime: 5-0.