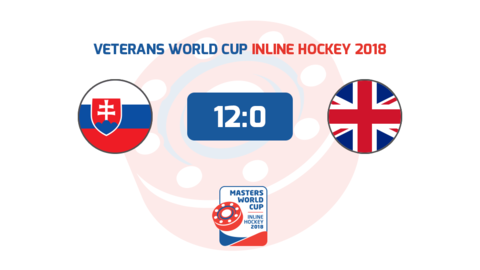 Slovaks advance to semifinals, crush Great Britain easily 12-0
Nový Jičín – The Slovaks continue to roll along. After winning the group stage, they have now easily reached the final four by beating GB by 12 goals in the quarter-finals.
Slovakia dominated throughout the game. Great Britain played very defensively and sometimes had a few odd-man rushes, but in the 7th minute Anton Lezo scored the first goal of the first four of the game and then quickly added three more himself to make it 4-0. Before the end of the first half, Peter Foltyn found the net with quick shot.
The Slovaks entered the second half with five-goal lead, but it wasn't enough for them. In the 24th minute, they added another goal, as Stanislav Jelínek scored on a screen shot thanks to set-up by Pejchal to make it 6-0.
The Slovaks were only halfway to their final total of 12 at that point. Shorthanded, Lezo scored his fifth the game. Soon, Peter Jurenka and Marián Horváth added another two, and one minute later Peter Kotlárik after a smart move on a breakaway made it 10-0. The last two goals of the game were scored by Roman Trenčan and Roman Pejchal. Slovakia will face the winner of Germany and France in the semis.
Slovakia – Great Britain 12:0
Goals and assists: 7. Lezo (Trenčan), 11. Lezo (Chatrnúch), 14. Lezo (Kotlárik), 19. Lezo (Kotlárik), 20. Foltýn (Štábel), 24. Jelínek (Pejchal), 37. Lezo (Kotlárik), 38. Jurenka (Jelínek), 39. Horváth (Jurenka), 39. Kotlárik (Chatrnúch), 40. Trenčan (Chatrnúch), 40. Pejchal (Štábel). Referees: Favero, Riolo. Penalties: 1:2. PPG: 1:0. SHG: 1:0. Halftime: 5:0.