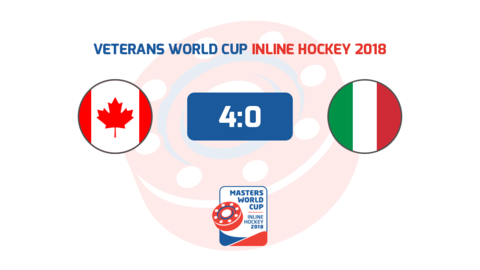 Canadians shut out Italians to advance to semis
Canada entered the game as the favourite against Italy and confirmed that with a 4-0 quarter-final win. Although the tough Italians put up a lot of resistance, they could not score a single goal and the Canadians executed with workmanlike efficiency.
The Canadians came out pushing hard offensively but the Italians were tenacious in their own zone, not wanting to fall behind early. However, their trouble containing the speedy Canadians finally forced them to take a penalty, and on the power play a hard shot by Bill Adams gave the Canadians the lead.
The Canadian pressure continued, which the Italians tried to temper by calling a timeout in the 14th minute. It worked to some extent, as the Canadians were unable to score for the remainder of the half, and we still had a game heading into the second half.
Despite being outplayed, the Italians remained one shot from tying the game until the 23rd minute, when Mark Wandler's shot from the right side made their task more difficult. The two-goal lead allowed Canada to relax somewhat. For the rest of the way, Brad Forbes was steady when he needed to be and Greg Zona and Lance Sarchet added late goals to make it a 4-0 final and put Canada through to the semis.
Goals and assistants: 9. Adams (Peacock), 23. Wandler (Kennedy), 29. Zona (Bryan), 37. Sarchet (Wandler). Penalty: 1:2. PPG: 1:0.