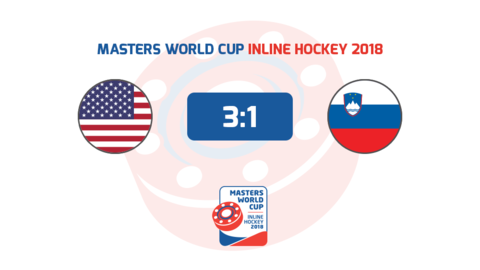 USA joins elite eight, edges Slovenia 3-1
Přerov – The USA is the last team to make the quaterfinals of the Masters category at the Inline Hockey World Championship. The Americans didn't play their best game, scoring the game-winning goal in last minute.
The United States opened the scoring on their first chance. Derek Kern got a quick feed from Morris and scored from the left circle with a slap shot. At the other end of the rink, Petronijevič almost tied the game but his shot was blocked and Bufalino made a nice glove save.
In the 28th minute, the Slovenes went to the power-play and Fajdiga and Petronijevič had few rebounds in front of the net. Nevertheless, Bufalino still kept a clean sheet. Soon, Slovenia finally tied the game. Boštjan Brezník used a set-up by Fajdiga and scored from the left side to tie the game at 1.
The Americans had chances to regain the lead - Kern hit the post on an odd-man rush with a wrist shot. In the last minute, Kern became the decisive man for his team. He took a quick pass to the stick and surprised the Slovenian goaltender with a shot from a tight angle. The Slovenes weren't able to find an answer and Brin Morris scored the third goal for the United States to end the game at 3-1.
USA – Slovenia 3:1 (1:0, 2:1)
Goals and passes: 10. Kern (Morris), 40. Kern, 40. Morris – 28. B. Breznik (Fajdiga). Referees: Lattemann (GER), Moine (FRA). Penalties: 4:3. PPG: 0:1. SHG: 0:0.