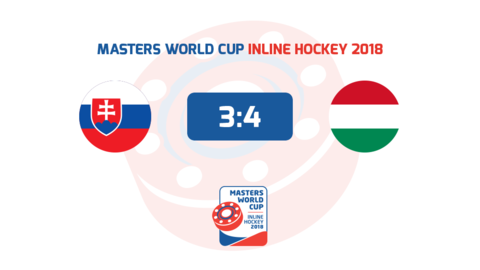 Lencses's hat-trick helps Hungary in Danube derby to beat Slovaks
Přerov – The Slovaks and Hungarians battled each other in "Danube Derby" in Přerov. Hungary narrowly won the game 4-3 thanks to a hat-trick by Lencses, reaching the quarter-finals of the tournament.
The Hungarians started the game with the first goal. In the 10th minute, Akos Halasz opened the scoring after a quick set-up by Langa. Soon Slovakia answered, as Udvardy's pass found Richard Vacek's stick and he tied the game at 1.
This crazy game continued and the Slovaks took a lead again, as Andrej Szoke scored from right in front of the net, but then in the first minute of the second half, Tamas Lencses tied the game. The same player added his second of the game a short time later, and his backhand shot between the goalie's pads made it 3-2 for the Hungarians.
Slovakia's players came out with another answer to tie the game at 3. Vít Jalovec's beautiful shot hit the net near the crossbar, and the Hungarian goalkeeper had no chance to make a save. In the end, Lencses became the hero of his team. Slovakia's goalkeeper stopped his first shot, but wasn't able to save the coming rebound. Lencses completed his hat-trick to send the Hungarians to the quarter-finals.
Slovakia – Hungary 3:4 (2:1, 1:3)
Goals and passes: 11. Vacek (Udvardy), 12. Szoke (Hosťovecký), 33. Malovec (Šturc) – 10. Halasz (Z. Lang), 21. Lencses, 21. Lencses (Halasz), 35. Lencses (Kovacs). Referees: Šiška (CZE), Coutant (FRA). Penalties: 2:2. PPG: 0:0. SHG: 0:0.