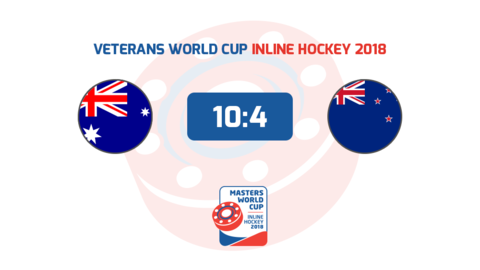 Aussies beat Kiwis in wild game, making step to finish 9th
Nový Jičín – The Australians started the journey to notch ninth place in the tournament, beating their rivals from New Zealand 10-4. Australia had such a good start and took a four-goal lead. The Kiwis tried to make a comeback but didn't succeed, and Australia is now one win away from finishing in 9th place.
New Zealand started the game better, and it didn't take long for Shawn Retter to score first. The Aussies answered before long, however. Chris Staneke tied the game at 1 and Adam Szuster gave them their first lead with a shot from the left side. Before end of the first half, Australia added three more goals. Anthony Santalucia scored shothanded, then Dwayne Perreira and Mark Schwettpelz made it 5-1.
The Kiwis didn't want to give up and tried to find a way back, and after 19 seconds Jackson Clyde scored New Zealand's second goal of the game. The Australians again had answers, scoring three more goals with Chris Staneke recording a natural hat-trick. A wild second half continued with goals by New Zealand's Clyde Jackson and Mark Smith-Pilling.
Australia led 8-4 and it wasn't still enough. First, Geuff Dawson scored Australia's ninth goal and then teammate Staneke added his fifth of the game to make the final score 10-4.
Australia – New Zealand 10:4
Goals and passes: 5. Staneke, 10. Szuster (Modra), 14. Santalucia (Staneke), 17. Perreira (Szuster), 25. Staneke (Santalucia), 29. Staneke, 33. Staneke (Schvettzpelz), 33. Dawson (Staneke), 37. Staneke – 3. Retter (Duerre), 88. Jackson (Flood), 88. Jackson (Marjoribanks), 29. Smith-Pilling (Flood). Referees: Druga, Ptáček. Penalties: 2:2. PPG: 0:0. SHG: 2:0. Halftime: 5:1.