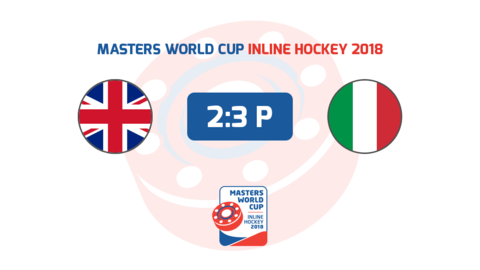 Cavalier's OT goal completes Italy's comeback vs GB
Přerov – Second Thursday's game in Přerov offered really tough battle between Italy and Great Britain. The Britans had lead 2-0, but italian players completed a comeback to notch 3-2 win in OT, reaching the quaterfinals against Czech Republic. Main Italy's hero was Mario Monti Cavalier, who tied game at 2, also scoring game-winning goal.
The Britans opened the scoreboard from first bigger chance. In 12th minute Michael Gibbons left penalty box and had a break-way on the right side of the rink. He tried to shoot from circle, and his wrist shot found a net. The same player scored four minutes later to make it 2-0 for Great Britain.
In 25th minute Newberry could add third goal for GB but his shot in front of the net didn't go in. Soon, Malý's shot was re-directed wide, and then Guichardaz made a huge glove save against Henira.
Italian team was close to get an important win but Great Britain started its comeback. First Italy's goal was scored by David Sagui. One minute later GB could tie the game with Sctricker's shot hiting the post. In last minute of the second half Mario Monti Cavalier scored in power play to make it 2-2 and game went to over time.
Italian players were able to complete a perfect comeback in overtime, Mario Monti Cavalier found space between circles and with his second of the game send Italy to quaterfinals.
Great Britain – Italy 2:3ot (2:0, 0:2 – 0:1)
Goals and passes: 12 Gibbons (Findlow), 16. Gibbons – 36. Sagui (Bruttomesso), 40. Monti Cavaler, 46. Monti Cavaler. Referees: Scheibner, Lattemann (oba GER). Penalties: 6:2. PPG: 0:2. SHG: 0:0.