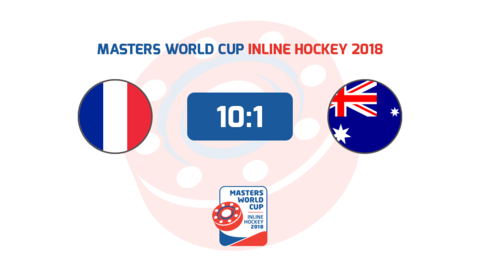 France crush Australia in Thursday's opener, reach the quaterfinals
Přerov – France and Australia met each other for the second time in the Master's tournament. French players repeated their dominance, easily won 10-1 and will continue to quaterfinals.
The Frenchs started very well, in sixth minute scoring first goal. William Richard broke the tight after quick set-up by Thomas. France multiplied its lead one minute later, Richard passed the puck to Dylan Mounier, who made it 2-0. Kiwis found quick answer, Mark Schvetipelz scored first Australia's goal of the game.
France continued to play active and scored two more goals. Julien Thomas got feed by E. Clisson to made it 3-1 and Edouard Clisson after Richard's pass added the fourth one still before the end of the first half.
In 26th minute Guillame Blanc came up with successful shot too, fourteen seconds later Edouard Clisson scored his second and France's sixth of the game. Nevertheless, australian goalkeeper was hero of his team, making some huge saves against chances of french team.
Leading team added soon another two goals. Adrien Defrance scored with wrist shot nearby far post and Julien Clisson found a space under the crossbar with his shot to make it 8-1. Same player scored nineth of France's team and Xavier Raby closed the game with scoring tenth goal. France easily won 10-1.
France – Australia 10:1 (4:1, 6:0)
Goals and passes: 6. Richard (Thomas), 7. Mounier (Richard), 15. Thomas (E. Clisson), 20. E. Clisson (Richard), 26. Blanc (Raby), 26. E. Clisson (Richard), 37. Defrance (Raby), 37. J. Clisson (E. Clisson), 38. J. Clisson (Richard), 40. Raby (Thomas) – 13. Schvetipelz (Taylor). Referees: Lepich (GER), Výborný (CZE). Penalties: 1:1. PPG: 0:0. SHG: 0:0.