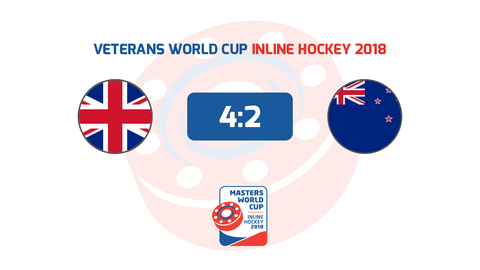 Brits edge New Zealand in a clash for the last ticket to the playoffs
The last game of the group stages was a crucial match between Great Britain and New Zealand in the Veterans category. Only the winner would make it to the playoffs!
The Britons had a great start to the game. Their first chance did not result in a goal, but seconds later, Simon Phillips scored the opener. However, Clyde Jackson tied things up just two minutes after Phillips' marker.
After conceding for the first time, Team GB did not waste time and Richard Morling gave them the lead back after a nice individual effort.
After halftime, Simon Phillips extended Britain's lead to two goals, and only a minute later, Jason Coles made it 4-1. Clyde Jackson's second goal of the game did not change much, as it was evident that Great Britain will clinch their playoffs ticket. The Kiwis did not even try pulling their goalie at the very end.
Great Britain – New Zealand 4:2
Goals and assists: 3. Phillips (Thompson), 8. Morling (Thompson), 26. Phillips (Pemberton), 27. Coles (Mundell) – 5. Jackson, 34. Jackson. Referees: Šiška, Moine. Penalties: 7:4. PPG: 1:0. SHG: 1:0. Halftime: 2:1.