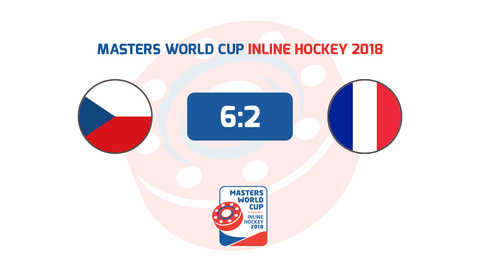 Czech Masters dominate their group, beat France 6-2
Přerov – The hosts are still unbeaten in the tournament, although they gave up their first two goals since the start of the championship. The Czech masters won against France 6-2 and reached the quaterfinals from first place.
The first Czech goal came on the power play, as Lubomír Korhoň scored with a wrist shot after a set-up by Vozdecký, getting a friendly bounce off the crossbar. In the 18th minute, the Czechs doubled their lead as Plášek fought for the puck and sent it to Martin Vozdecký, who scored in front of the left post.
The home team continued to dominate. Pavlíček made a big save off Defrance's shot and at the other end, Czech captain Ronald Schubert made it 3-0 for the hosts with a hard slap shot. In the 26th minute, France came back with its first goal, as Julien Clisson scored on a two-man advantage.
Nevertheless, the Czechs took their three-goal lead back. Korhoň used odd-man rush while shorthanded and scored his team's fourth goal. Soon afterward, Marek Vorel made a nice individual rush and finished under the crossbar to make it 5-1. The sixth goal was scored by Pavel Würtherle, thanks to Hanák's quick feed, and in the end, Édouard Clisson added France's second of the game to close the score at 6-2.
Czech Republic – France 6:2 (2:0, 4:2)
Goals and assists: 11. Korhoň (Vozdecký), 18. Vozdecký (Plášek), 22. Schubert, 27. Korhoň, 31. Vorel, 36. Würtherle (Hanák) – 26. J. Clisson (Thomas), 39. E. Clisson (J. Clisson). Referees: Lattemann, Scheibner (oba GER). Penalties: 3:3. PPG: 1:1. SHG: 1:0.