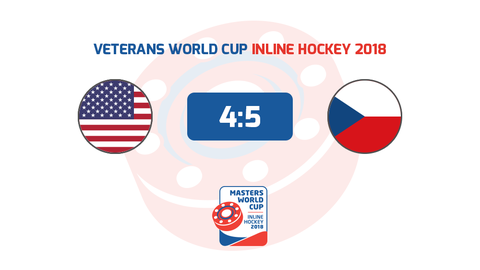 Czechs hold on, beat USA in a thrilling game
After nine minutes of the game between Czech and American veterans, the hosts had a comfortable 3-0 lead. In the end, Team USA wasn't far removed from pulling off a remarkable comeback, but the Czech Republic held on and won 5-4.
The hosts were fired up right from the start. Just a bit over a minute after the initial faceoff, Tomáš Langr opened the scoring with a nice shot from the left side. Botsford had to shovel the puck from his net again shortly after, as Tomáš Langr found Martin Duchek who made it 2-0. Just two minutes later, Dušan Vápeník added his name on the scoresheet as well.
Team USA managed to pull back within two goals thanks to Derek Thede, who capitalized on a nice pass from Clouston. However, the Czechs struck again. Kala's chance did not result in a goal, but Tomáš Ulrich eventually made it 4-1. Still in the first half, though, Michael Vicklerman and Matthew Wiljanen scored to make it a one-goal game!
Even though Dušan Vápeník gave the Czechs another two-goal cushion in the 28th minute, Team USA pulled back within one thanks to Robert Clouston. The 5-4 score remained until the final buzzer, therefore the Czechs can celebrate a first-place finish in Group B after a key win over the second-place USA.

USA – Czech Republic 4:5
Goals and assists:11. Thede (Clouston), 19. Vicklerman, 20. Wiljanen (Clouston), 34. Clouston (Koleski) – 3. Langr (Suhrada), 7. Duchek (Langr), 9. Vápeník, 18. Ulrich (Kazlepka), 28. Vápeník (Kazlepka)