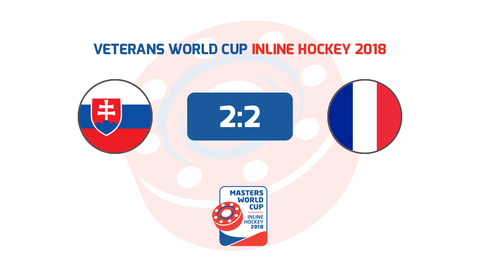 Slovakia and France split points, Slovak veterans secure first-place finish
Despite a 2-2 draw against France, Slovakia secured finishing in first place in Group A of the Veterans category. The French had a two-goal lead early in the game, but could not hold on to it.
France got up and running early on, as Lionel Reigner scored just 37 seconds into the game with a nice shot that beat Kohút. Just a few seconds later, Franck Brocheire made it 2-0 for the underdogs after an impressive individual effort. However, in the very next shift, Peter Jurenka cut the French lead in half.
The Slovaks could not capitalize on the momentum swing and France kept holding onto their tight lead. However, seven minutes before the final buzzer, Chatrnúch found an unmarked Peter Foltýn, whose shot ended up in the net. The 2-2 score did not change, therefore Slovakia finished first and France third in Group A.