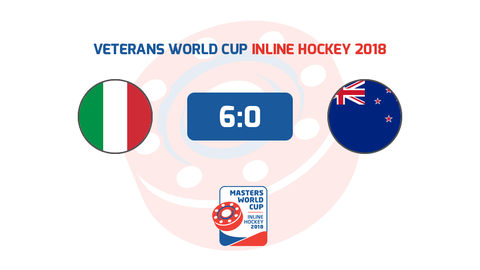 Italians shut out Kiwis, finish group third
Nový Jičín – Italy notched its second win of the tournament. After beating Great Britain, they came up hard against New Zealand and won easily 6-0. The Kiwis leave the tournament without any points.
Italy stepped up to the game as they wanted, with Renato Vaccarino early breaking the scoreless tie with a power-play goal. The Kiwis still couldn't find a way out of their defensive zone and Italy added a second strike on captain Luca Dotto's perfect shot from the right side.
The Kiwis weren't able to score even on the power play, then gave up another goal as Vaccarino scored his second of the game. The Italians dominated the game and got two more goals before the end of the first period. Aleksej Zolovkins scored on the power play and Tiziano Santoni made a beautiful backhand move on a breakaway to make it 5-0.
The New Zealanders started to be more nervous and aggressive, and in the 19th minute Shawn Retter was charged with a 10-minute misconduct. Italy calmly controlled the second half, adding another goal by Vaccarino, who completed his hat-trick.
Italy – New Zealand 6:0 (5:0, 1:0)
Goals and passes: 2. Vaccarino (Zolovkins), 4. Dotto, 9. Vaccarino (Dotto), 15. Zolovkins (Vaccarino), 20. Santoni (Endrizzi), 37. Vaccarino (Zolovkins). Referees: Ptáček, Moine. Penalties: 2:4, plus Retter (NZL) 10 min. OT. PPG: 2:0. SHG: 1:0.