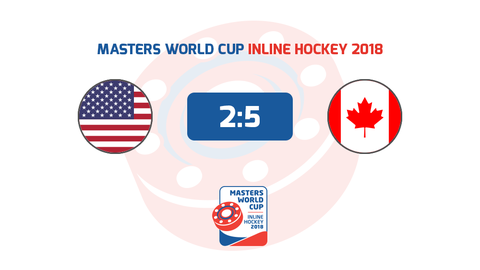 After remembering the Broncos with a minute of silence, Canucks win 5-2 over USA
The North American derby between Canada and USA was preceeded with a moving moment, as both teams held a minute of silence for the victims of the recent Humboldt Broncos tragedy. The Canadians won the game that followed 5-2 and secured a first-place finish in Group B of the Masters category.
The fans in the arena did not have to wait very long for the first goal, as Michael Hunt opened the scoring in the very first minute to make it 1-0 Canada. The Canadian chances that followed were saved by goaltender Bufalino, but Jamie Visser made it 2-0, eventually. Team USA responded just before halftime with a goal from Derek Kern's stick.
In the 24th minute, Team Canada was on the power play and Hunt managed to score his second tally in the game. Shortly after, though, Kern scored his second as well to cut the deficit back to one goal. Afterwards, Canada's goalie Cobb made a couple of key saves, and Chad Blundy and Frederick Corbeil then each added a goal to make it a 5-2 win for Canada.
USA – Canada 2:5 (1:2, 1:3)
Goals and assists: 20. Kern (Morris), 28. Kern (Watanabe) – 1. Hunt (Blundy), 14. Visser (Blundy), 24. Hunt (Larocque), 33. Blundy (Larocque), 39. Corbeil (Bennett). Referees: Jílek (CZE), Lepich (GER). Penalties: 1:1. PPG: 0:1. SHG: 0:0.