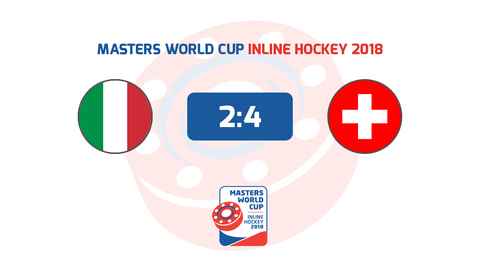 Swiss beat Italy to reach 1st place in Group C
Přerov – The Swiss Masters convincingly won all three of their games to clinch first place in Group C. In their third game, they beat Italy 4-2 thanks to a strong second half. Switzerland went through round robin unbeaten, while Italy finished in last place.
Italy scored first when the Swiss goalie made a save on Sticker's shot but Giancarlo Todesco found the rebound and buried it. Jamusci had a chance to tie the game but Russo stopped his shot to the far post. Then, the Italian goalie came up with another save, stopping a re-directed wrist shot by Schuster.
In the 18th minute, Goetschi hit the post with his shot and Michael Diener scored on the rebound in front of the near post and made it 1-1.
At the beginning of the second half, the Swiss completed their comeback, with Marcel Kündig firing a shot under the crossbar thanks to a set-up by Imhor. Italy tied the game in the 29th minute with David Sagui's shot in front of the net, but five minutes later Diener's pass came to Rolf Schepfer and he returned the lead to his team. In the end, Switzerland calmed down and added a fourth goal by Christian Schuster to complete the scoring.
Italy – Switzerland 2:4 (1:1, 1:3)
Goals and passes: 9. Todesco (Stricker), 29. Sagui (Berto) – 18. Diener (Schrepfer), 22. Kündig (Imhof), 34. Schrepfer (Diener), 35. Schuster (Schrepfer). Referees: Výborný (CZE), Druga (SVK). Penalties: 2:2. PPG: 1:2. SHG: 0:0.