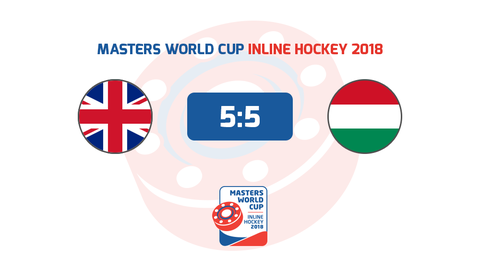 First draw in Přerov: Brits split points with Hungarians
Přerov – Hungary and Great Britain's Masters teams battled each other in Přerov, but the spectators didn't get a winner. The Britons came from two goals down twice – once in each half – and the game ended in a 5-5 tie.
Hungary took the lead in the 9th minute with a goal from Tamas Lencses from the left side. The Hungarians then quickly added a second, as Akos Halasz's shot found space under the bar. Great Britain came back to tie it before the end of the first quarter, with James Munro-Morris scoring both goals.
Great Britain started the second quarter strong and scored once more to take the lead. Although Marcel Maly got a game misconduct, Simon Henir broke the tie and buried a shot from the slot. In the 19th minute, Gyorgy Kovacs, tied the game back up and then Laszlo Seler scored with a wrist shot off the crossbar and in. The Hungarians won a wild first half 4-3.
At the beginning of the second half, the Hungarians widened their lead to two, as Lencses got a quick set-up by Kovacs and scored between goalie's pads from the right circle for his second of the game. Great Britain still had enough power and patience to tie the game again, though. Michael Newberry cut down Hungary's lead and Oscar Wightman tied the game at 5. This crazy game ended 5-5.
Great Britain – Hungary 5:5 (3:4, 2:1)
Goals and passes: 13. Munro-Morris (Henir), 16. Munro-Morris (Newberry), 18. Henir, 30. Newberry (Maly), 35. Wightman (Maly) – 9. Lencses, 11. Halasz (Lencses), 19. Kovacs (Lencses), 20. Seler (Sandor), 25. Lencses (Kovacs). Referees: Scheibner, Lattemann (oba GER). Penalties: 4:3, plus Malý (GBR) 10 min OT. PPG: 2:3. SHG: 0:0.