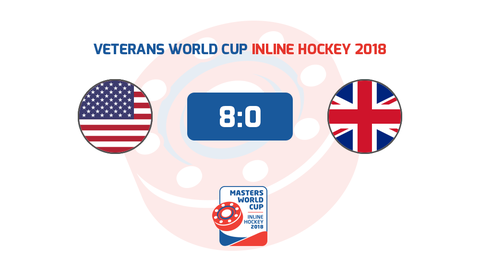 Americans remain unbeaten after 8-0 rout of Great Britain
Veterans from Great Britain suffered a crushing defeat in their round robin game against the United States. The Americans scored their first goal just 13 seconds into the match and kept scoring goals until the very end.
As has been mentioned, the USA scored just 13 seconds after the initial faceoff thanks to Derek Thede. Team GB stayed on the defensive despite their early deficit and the American veterans capitalized on that.
Six minutes into the game, the British goaltender Courbrough conceded another goal, this time from Michael Lalonde's stick. Just moments later, Robert Clouston and Joseph Florio added goals number three and four. And because Raulie Licon put his name on the scoresheet as well, the halftime score was 5-0.
Raulie Licon scored shortly after the break, as well. After scoring his second goal in the game, Licon also collected a helper on Lalonde's second tally. Both teams played economically in the last quarter of the game, trying to prevent fatigue and possible injuries, but Florio managed to score his second goal in the game as well. Therefore, the USA won 8-0 over Great Britain and remain undefeated.