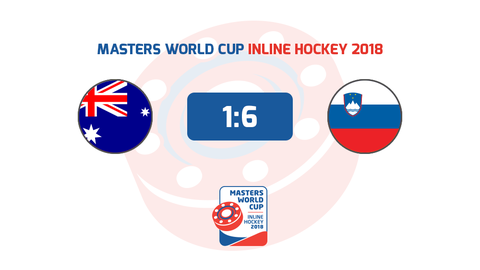 Australians score 1st tournament goal, Slovenes win
Přerov – Australia's inline hockey team scored their first Masters World Championship goal in Přerov, yet it was not enough to gain any points. Aleš Fajdiga's hat-trick helped Slovenia get a 6-1 win and to secure third place in Group A.
Adams's shot was saved by Aleš Petronijevič, the Slovenian goaltender, during Australia's power play. At the other end of the rink, Boštjan Breznik shot on goal from the left side but Ells pushed his pad against the rink and blocked the puck. Jeffries got a breakaway in the 11th minute but hit Ells's body. Then, on another breakaway, the Slovenian player could not finish his attack due to hooking.
For a change, Janez Breznik tried his luck during a power play in a 1-on-1 battle with the Australian goaltender. Ells managed to poke-check the puck from Breznik with his stick just in time, though. Yet he gave up a goal moments later. Janez Breznik scored a rebound goal after Goran Petronijevič's shot. In the 15th minute, Aleš Fajdiga appeared out of nowhere in front of Ells. He had enough time to think about placing the puck and decided to go for the left post, which Ells did not cover with his pad.
In the second half, Rusanov in alone did not score a goal after Australia's mistake with his shot above the net. Aleš Starič worked it out in the 31st minute and scored a five-hole goal from the left face-off circle. A minute later, Slovenia went for a 3-on-1 attack and Fajdiga took responsibility, forced the goaltender to the floor and fired a bar-down goal. In the 33rd minute, Australia scored their first tournament goal as Correy Smith scored off Santalucia's pass. Fajdiga completed his hat-trick off Petronijevič's pass in the 37th minute, and Dejan Rusanov extended Slovenia's lead to make the final score 6-1.
Australia – Slovenia 1-6 (0-2, 1-4)
Goals and Assists: 33. Smith (Santalucia) – 13. J. Breznik (G. Petronijevič), 15. Fajdiga (Starič), 31. Starič, 32. Fajdiga (J. Breznik), 37. Fajdiga (G. Petronijevič), 40. Rusanov. Referees: Lepich (GER), Druga (SVK). Penalties: 3:4. PPG: 0:1. SHG: 0:0.