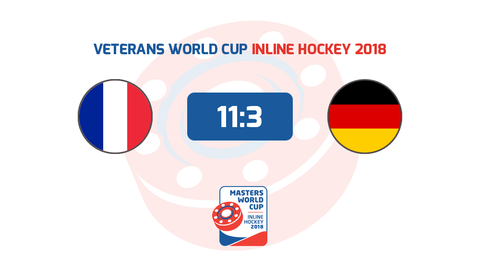 After a slow start, France executes a remarkable comeback against Germany
The French veterans made their lives more difficult early on in their last game in the group stage, as they were losing 0:3 to Germany 12 minutes into the match. However, France came back and scored 11 unanswered goals!
The German outsiders surprised France with a very offensive-minded performance and after only four minutes, they had a 2:0 lead thanks to Thirsten Hofmann and Michael Hohenberg. Few minutes later, Sofian Udo extended the German lead to three goals.
France had to wait for 15 minutes until they scored for the first time, when Richard Aimonetto got them on board. Another 12 minutes later, Aimonetto scored again to make it a one-goal deficit. Germany's lead quickly dissolved, as Frederic Guiheux tied the game just seconds after Aimonetto's marker. Shorthly afterwards, Alexandre Magnien and Richard Aimonetto completed the comeback with additional French goals.
Gone were the active and energised Germans, the remainder of the match was dictated by the favourites. Thibault Vincent and Lionel Reignier scored in a span of three minutes to make it 7:3 for France, but the Frenchmen just did not have enough. During one German powerplay, France scored three times (Richard Aimonetto, Lionel Reignier and Olivier Garcia)! Frederic Guiheux tallied one more goal in the very end, therefore France won by an eight-goal difference despite being down by three in the game.
France – Germany 11:3
Goals and assists: 15. Aimonetto, 27. Aimonetto (Collet), 28. Guiheux, 28. Magnien, 29. Aimonetto, 30. Vincent (Aimonetto), 33. Reignier (Aimonetto), 35. Aimonetto (Reignier), 35. Reignier (Aimonetto), 36. Garcia (Spinetti), 39. Guiheux (Aimonetto) – 3. Hofmann, 4. Hohenberg (Udo), 13. Udo (Hofmann). Referees: Favero, Ptáček. Penalties: 3:3. PPG: 0:0. SHG: 4:0. Halftime: 1:3.