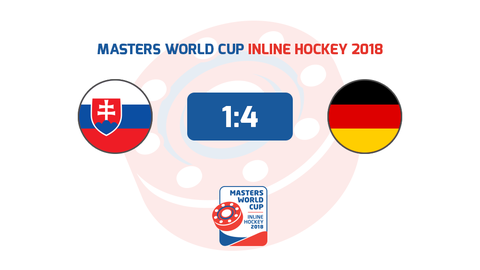 Kohl's perfect performance helps Germany, edge Slovaks 4-1
Přerov – The Germans were able to wake up after a five-goal loss to Switzerland and won in their game on Wednesday against Slovakia by three goals. Credit goes to goaltender Kohl, who put on an incredible performance.
Germany opened the scoring early. In the 6th minute, Markus Köppl got set up by Nies and found the net with a quick wrist shot between Fatula's glove and pad inside the far post. Vacek of Team Slovakia nearly answered, but hit the post with his hard slap shot.
Shortly thereafter, the Germans doubled their lead. Florian Nies found space on the right side of the rink and his first shot was saved by Fatul's pad but he managed to get to his own rebound and score. The Slovaks tried to play more offensively but were unable to score nevertheless. Kohl made a huge pad save against Udvardy, who tried his luck from the right circle.
In the 24th minute, Karšay wanted to score the first one for the Slovaks but his wrist shot missed the net. Afterwards, Rudolf Tomán utilized a screen in front of the net and scored with a quick shot from left wall. Slovakia desired to tie the game but gave up another goal, as Köppl scored his second of the game on a German power play. The Slovaks weren't able to find a way back. Notwithstanding, they pulled their goalie for an extra attacker but Christian Mader closed the game with an open-net goal to make it 4-1.
Slovakia – Germany 1:4 (0:2, 1:2)
Goals and passes: 25. Tománek (Vrábel) – 6. Köppl (Nies), 9. Nies, 28. Köppl (Patschull), 40. Mader. Referees: Výborný, Jílek (both CZE). Penalties: 2:1. PPG: 0:1. SHG: 0:0.