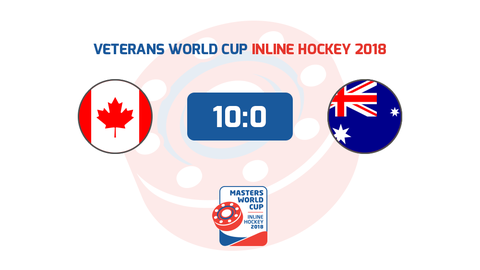 Canadians crush Australia in Wednesday's opener, 10-0
On Wednesday morning, the Canadian veterans secured a second-place finish in Group A with a decisive 10-0 win over Australia, who will finish last in the group.
The first few minutes did not show signs of such lopsided game, though. The Canucks had to wait for their first goal until the eighth minute, when Karl Bryan opened the scoring. However, just 15 seconds later, Bill Adams made it 2-0 Canada.
Australian goaltender Gina Carroll had to collect the puck from her crease four more times before halftime. Karl Bryan scored a power-play goal after a nice pass from Peacock, and after his second goal of the game, Greg Zona, David Peacock and Rick Krupa put their names on the scoresheet as well.
In the second half, Canada did not stop scoring despite having a six-goal cushion from the first 20 minutes of the game. Mark Wandler made it 7-0 shortly after halftime and a few minutes later, Karl Bryan completed his hattrick. Lance Sarchet and Andrew Drayson each added a goal in the last quarter, rounding up the score to 10-0.
Canada – Australia 10:0
Goals and assists: 8. Bryan (Smith), 8. Adams (Henry), 11. Bryan (Peacock), 12. Zona (Bryan), 14. Peacock (Vilio), 16. Krupa (Bryan), 22. Wandler (Kennedy), 29. Bryan (Krupa), 33. Sarchet (Adams), 37. Drayson (Vilio). Referees: Moine, Cointant. Penalties: 1:3. PPG: 1:0. SHG: 0:0. Halftime: 6:0.