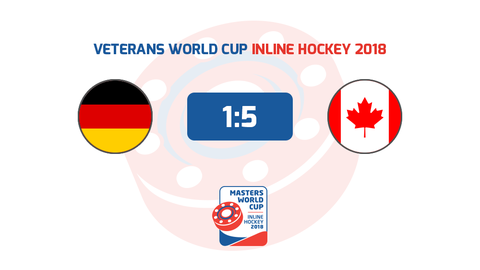 Canada scores twice shorthanded, beats Germany comfortably
In the last match of the second day of the tournament, Canadian veterans defeated their German counterparts 5:1 and returned back to winning ways after suffering a defeat by Slovakia earlier on Tuesday.
Germany had a long two-man advantage in the beginning of the game, but the Europeans could not translate this opportunity onto the scoresheet. The Canucks killed the penalty and shortly after scored the first goal of the match thanks to Mark Wandler. Three minutes later, however, Oliver Krill beat Forbes to tie things up.
The even score did not last for very long, though, as Greg Zona scored a shorthanded tally followed by another goal from Del Leibel, making it 3:1 Canada.
The Canucks maintainted their domination in the second half. On the powerplay, David Peacock finished off a nice tic-tac-toe to increase Canada's lead. The remainder of the game was very nervous with several unnecessary penalties taken by both teams. In the last quarter of the game, Greg Zona scored a shorthanded goal again to secure two points for Canadian veterans.
Germany - Canada 1:5
Goals and assists: 11. Krill (Udo) – 8. Wandler, 13. Zona, 14. Leibel (Kennedy), 23. Peacock (Vilio), 36. Zona. Referees: Ptáček, Favero. Penalties: 5:6. PPGí: 0:1. SHG: 0:2. Halftime: 1:3