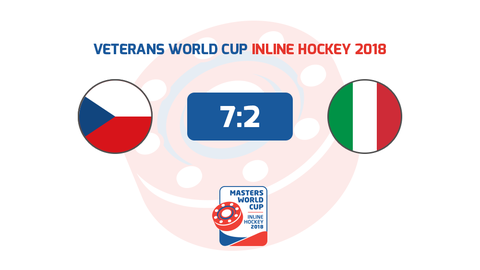 Czech veterans stay perfect after decisive win over Italy
The Czech Republic continues its domination in both categories, Masters and Veterans. The Czech veterans defeated Italy 7-2 on Tuesday night for their third win in the tournament.
The hosts started dictating the game from the very beginning. After the Italians could not convert their two scoring chances, Tomáš Langr opened the scoring after five minutes of the game. Eight minutes later, fans in the stands could celebrate again thanks to a powerplay tally from Dušan Vápeník.
Still in the first half of the game, the Czechs quickly increased their lead to 5-0. Roman Kala put his name on the scoresheet after a nice deke and after that, Tomáš Ulrich and Petr Polívka beat Marco Favaro on the power play.
After the break, the game evened up. Roman Kala made it a 6-0 lead for the hosts, but a mere two minutes later, Aleksej Zolovkins scored on the power play. The Czechs regained their six-goal lead thanks to Dušan Vápeník, but the Italians quickly responded with a goal scored by Ivan Endrizzi.
Czech Republic – Italy 7:2
Goals and assists: 5. Langr, 13. Vápeník, 15. Kala, 17. Ulrich (Vápeník), 17. Polívka, 25. Kala, 32. Vápeník – 27. Zolovkins, 33. Endrizzi (Ponterosso). Referees: Scheibner, Cointant. Penalties: 3:4. PPG: 3:1. SHG: 0:0. Halftime: 5:0.