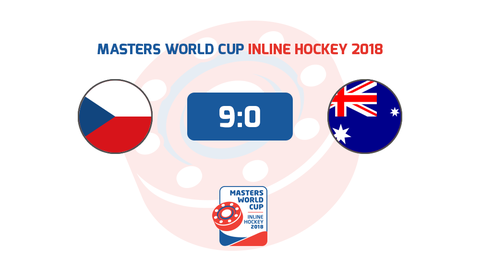 Hosts continue to dominate, Toman records first shutout
Přerov – The Czechs proved to be favourites once again and defeated Australia without any doubts. The hosts scored three goals in the first half and added six more in the second half, with Lubomír Korhoň scoring four of them.
The Czechs scored their first in the 3rd minute when Korhoň made a nice pass right to Marek Vorla, who had an easy job to do. Six minutes later, Korhoň and Vorla struck again. This time, Vorla made a pass to Lubomír Korhoň, who scored on a slap shot from the left side.
The hosts added one more goal before the end of the first half. Feledík could not finish his deke, but Lubomír Vích scored on the rebound. In the second half, Ronald Schubert proved to be a great captain after scoring two more goals.
In the 33rd minute, Michael Feledík scored on an accurate shot, assisted by goalkeeper Toman. The last six minutes of the game were all about Korhoň. First, he hit the bar, but it deflected right into the net. He added another one five minutes later and completed a hat-trick. Ten seconds before the end of the game, Korhoň made the final score 9-0 with his 4th goal.
Czech Republic – Australia 9:0 (0:3, 0:6)
Goals and assists: 3. Vorel (Korhoň), 9. Korhoň (Vorel), 10. Vích (Korhoň), 24. Schubert, 28. Schubert (Kubiš), 33. Feledík (Schubert), 34. Korhoň (Vích), 39. Korhoň (Balász), 39. Korhoň (Kubiš). Referees: Moine (FRA), Lattermann (GER). Penalties: 1:2. PPG: 1:0. SHG: 0:0.