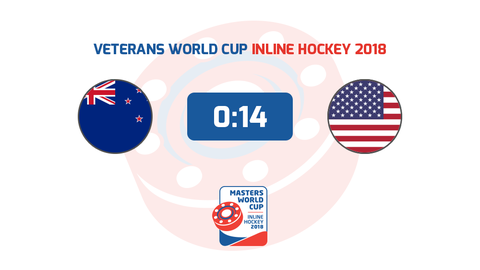 Lalonde's 2nd hat-trick in 2 days helps USA to big win vs New Zealand
Nový Jičín - The US team proved to be a favorite in the match against New Zealand. USA scored fourteen goals, in both halves seven of them. Vicklerman scored four and Lalonde completed another hat-trick.
The Americans dominated from the very beginning of the game. Michael Lalonde scored the first goal after a wonderful individual effort. A few seconds after that, Matthew Koleski made the score 2-0. The US team played at a really high tempo and by the 7th minute it was already 4-0. First, Roberto Clouston scored with a quick shot and Michael Vicklerman connected another one.
The Americans didn't generate any good chances during their power play, but scored when shorthanded thanks to Paul Rogers. Then Vicklerman and Lalonde, each with their second goals of the half, made it 4-0, with Lalonde's coming just one second before halftime.
Koleski struck again after just 20 seconds of play in the second period. After seven long minutes, Douglas Fetz added another one and it took just a while for Rogers to score his second of the game. New Zealand took a time out, but it did not help. Lalonde made a nice pass right to Vicklerman, who celebrated a hat-trick. The US team played very well, connecting another one thanks to Joseph Florio. There was another reason to celebrate in the 36th minute when Lalonde scored his third of the game. The last goal was scored two minutes before the end of the game on a power play by Vicklerman.