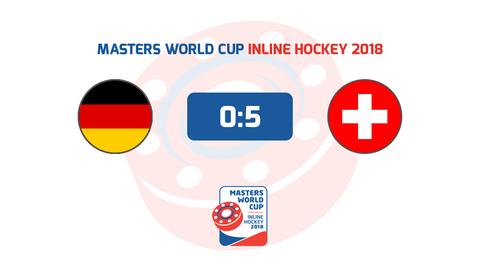 Swiss still unbeaten after earning 5-0 win vs Germany
Přerov – Switzerland's Masters have had a perfect start to the tournament with two wins in two games. They earned their second three-point win against Germany, winning easily 5-0.
The first chance came in the 5th minute, as Jamusci made a backhand move in front of the goalie but didn't score. At the other end, Schimtz had a solid chance to score after making a fake that he wasn't able to finish. Eight minutes after the start of the game, Schuster came out with a slap shot, the goaltender made save but nobody got to the rebound.
In the 10th minute, the Swiss broke the tie, as Rolf Schepfer took a quick set-up by Neff and his wrist shot found a place between Frank's pads. Switzerland then quickly doubled their lead, as Massimo Jamucsi got a feed from Schrepfer in front of the net and scored.
The second half began with another Jamusci strike. He finished with a long backhand move and scored between the pads of Germany's goalie. Schrepfer also scored his second goal of the game in the 32nd minute, finding the net with a perfect wrist shot under the crossbar. At the end, the Swiss added a fifth goal, as Marcel Kündig made the final score 5-0.
Germany – Switzerland 0:5 (0:2, 0:3)
Goals and passes: 10. Schrepfer (Neff), 11. Jamucsi (Schrepfer), 24. Jamucsi (Schuster), 32. Schrepfer (Müller), 38. Kündig (Bünter). Referees: Šiška, Jílek (oba CZE). Penalties: 3:2. PPG: 0:0. SHG: 0:0.