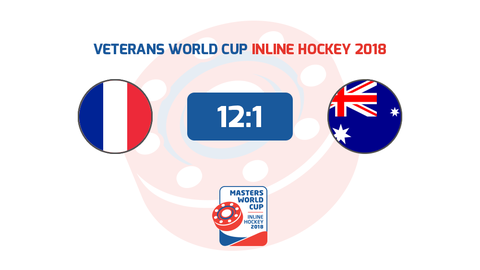 Strong first half, Aimonetto's 6 goals help France beat Aussies
Nový Jičín – The French brought their offence to their second game in the tournament. France scored 12 goals to manage an easy win against Australia. Richard Aimonetto contributed with six goals and teammate Frederic Guiheux collected a hat-trick.
France came out hard from the start of the game, scoring the first goal after 33 seconds when Frederic Guilheux opened the scoring. Australia answered quickly and Grega Modry tied the game. France then got the lead back on Richard Aimonetto's goal, who had started his one-man show.
He scored four goals between sixth and eighth minutes,with two of them coming shorthanded. A few minutes later, Frederic Guiheux added another two goals and completed his hat-trick to make it 7-1. The French continued to dominate the game and before halftime got two more goals from Aimometto, his fifth of the game, and Olivier Garcia.
The game was decided and both teams started to play slower and more relaxed in the second half. Andy O'Connor, Australia's backup goaltender, got a chance in net in the second half and made some huge saves for his team, including two hit posts by the Aussies. France finished the game with three more goals. Aimonetto completed his second hat-trick of the game, and Alexandre Magninen and Hevre Legallic closed the game to make final score 12-1.
France – Australia 12-1 (9-1, 3-0)
Goals and passes: 1. Guiheux (Aimonetto), 6. Aimonetto, 7. Aimonetto, 8. Aimonetto, 8. Aimonetto (Martin), 12. Guiheux (Aimonetto), 15. Guiheux, 15. Aimonetto (Reigner), 18. Garcia (Brocherie), 21. Aimonetto (Reigner), 23. Magnien (Martin), 36. Legallic – 3. Modra. Referees: Druga, Favero. Penalties: 1-1. PPG: 0-0. SHG: 1-0. Halftime: 9-1.