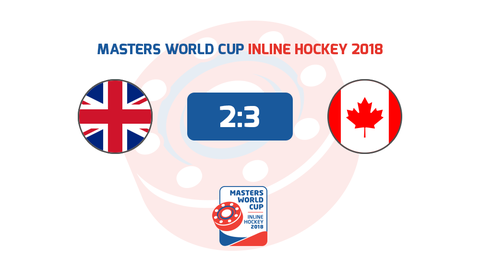 Brits remain winless after 3-2 loss to Canada
Přerov – Team GB has lost yet another really close game. Even though they tied the game in the first half, Canada took the lead again and defended it until the end.
Canada created the first chance of the game, but only hit the post. We had to wait until 12th minute of play for the first goal when Corveilov made a nice pass right to Danny Larocque, who had an easy job to do. Team GB tied it two minutes later thanks to Marcel Maly (who was born in Přerov) and his perfectly accurate shot.
It was Canada who struck again. They managed to score a power-play goal after a perfectly placed pass to Danny Larocque and a quick shot. Melton could have made Canada's lead even bigger, but Wood came up big with an excellent save.
Canada started the second half with a power play, but did not generate any good chances. The Brits tried to tie the game, but they couldn't beat an unbeatable Cobb. In the 35th minute, Paul Melton got some free space in front of the net and scored another goal to make it 3-1.
Great Britain did not give up and tried hard to at least draw even, With just a few seconds remaining, Oscar Wightman scored a goal right between goalkeeper's pads, but that's as close as they would get.
Great Britain – Canada 2:3 (1:2, 1:1)
Goals and assits: 14. Maly, 39. Wightman (Munro-Morris) – 12. Larocque (Corbeil), 17. Larocque (Visser), 35. Melton (Corbeil). Referees: Moine (FRA), Lattemann (GER). Penalties: 3:2. PPG: 0:2. SHG: 0:0.