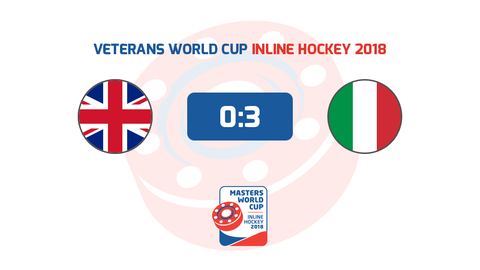 Italy's veterans beat Great Britain to earn first win
Nový Jičín – Italy showed quality and beat GB in one-sided game 3-0. The Britons played defensively but gave up three goals. The Italians pnotched the first win and their goalie kept a clean sheet. GB is still waiting for its first points.
Italy came out hard after previous huge loss against the USA and needed to beat GB to get more comfortable. The Italians started to play active, but fought with their own productivity and couldn't find a way past British goalie Gordon Coubrough. Luca Dotto broke the tie in 18th minute with a perfect wrist shot from the left side.
The Italians added their second goal in second half with a strike by their captain Aleksej Zolovkins, who found the net with a slap shot. The Britons suprisingly didn't start to play offensively, but continued with hard defence. Nevertheless, they had some odd-man rushes and Italian goaltender Roberto Casale made a couple of huge saves.
At the end of the game, GB needed to score two goals to tie the game but just couldn't score from their chances. With two minutes left in the second half, Italy came out with their third goal. Francesco Ponterosso made it 3-0.
Great Britain – Italy 0:3 (0:1, 0:2)
Goals and passes: 18. Dotto (Ponterosso), 29. Zolovkins (Vaccarino), 38. Ponterosso. Referees: Benuat, Scheibner. Penalties: 3:1. PPG: 0:1. SHG: 0:0. Halftime: 0:1.